Geo CRM, is the combination of a powerful Customer Relationship Management System with the most advanced Geolocation platform of customers and prospects !

Develop a strengthened and effective commercial tracking strategy with the ability to record all the information of your current and potential customers.
The key is the ability to grow your business by developing more effective communication channels . Registering in GeoCRM calls, meetings, emails and any outstanding quality of its customers.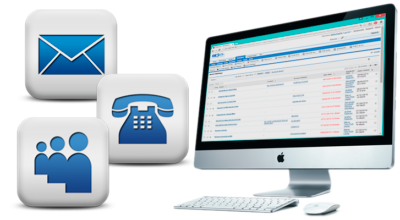 Perform continuous monitoring of major projects in your company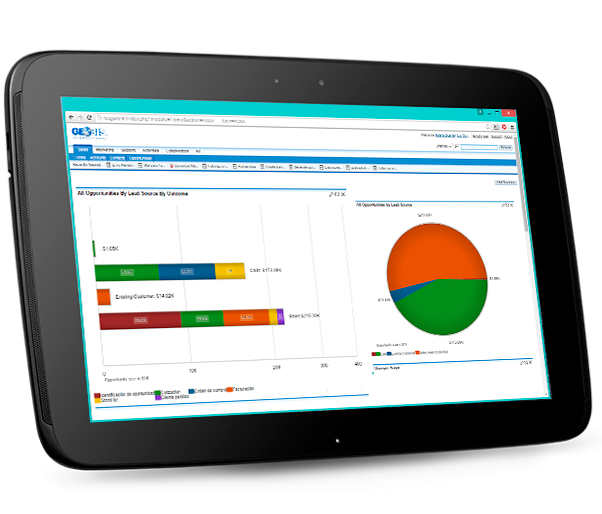 Increase, manage and project business sales, draw more effective marketing campaigns, set priorities and measure the results of your business strategy using GeoCRM by Sugar.
INDUSTRIES USING CRM
GeoCRM adapts to any industry creating unique strategies for each type of customer, by customizing the platform higher productivity is guaranteed because it suits your business specialty.
Banking
Priority in the financial sector is creating long-term relationships with their clients :
– Track and trace every interaction done with the customer through various channels and departments of the organization.
– Classify your customers by: current value and potential value, to prioritize your marketing strategies marketing.
– Visualize the location of your customers and the closest service points, in this way you can determine which parts of the market are not covered.
Pharmaceutical
The most important thing in this sector is maintain effective relationships with professionals, distributors and patients :
– Easily find and Health Professionals potential limitation in niche target market.
– Streamline Professional attention to organizing the agenda of his advisers to provide timely service and deliver samples.
– Record every assistance given to professionals and patients to care for compliance with prescription.
Advertising
Reduce costs and optimize resources campaigns:
– Controls the budgets for each campaign, recording expenses and crossing information department sales.
– Place in Digital Maps, optimal to launch BTL campaigns or mass media such as fences or other places, you can view the scope of the campaign for your company or its customers thanks to information floating population and inhabitants of each sector.
Real Estate
Organize customer information and manage real estate company creating a complete inventory of its properties:
– Have easy access to Digital Maps with the location of each property available.
– Cross the customer information with the available properties and make a complete tracking of calls, emails, meetings and others.
– Assign your Geo CRM accounts for each of the advisers of the company.
Engineering
With Engineering for Geo CRM you can develop your projects efficiently from start to finish:
– Centralize on a cloud platform, data from all its customers and characteristics of projects.
– Establish effective communication channels between the project partners to not overlook any details.
– Supervise every stage of their projects, from making the offer to completion.
Security
In the security sector, companies worry about being the best at providing timely, responsible and quality service, with Geo CRM Security companies may:
– Create profiles of your employees where experience, training and courses taken to register.
– Organize customer information as well as the specific safety requirements.
– Relation primary documents for the service with customers and employees, as service data sheets, manuals, Proceedings of delivery, etc.
Logistics and Distribution
The Geo CRM as an ally for process optimization:
– Sort and order pending deliveries and assign them to their employees, who will receive notifications on your email or accessing the platform dese any mobile device.
– Each department can easily access data such as: personal services contracted by each customer, your billing information that manages the account.
– Locate customers on digital maps, routing and traffic.
Marketing
Geo CRM for Marketing, will provide tools for better planning of their strategies and actions
– Plan marketing actions quickly (emailing, phoning, fair …)
– Analyze and Digital statistics all their traditional campaigns.
– Trace department goals and measure them in real time.
Telecommunications
For companies in the Telecommunications Industry it is important to be at the forefront of technological advances and the needs of its customers, so our Geo CRM:
– He will command the data of its customers and internal staff as managers, technicians and sales staff.
– Manage projects from beginning to end difrentes departments of the company and within a single database.
– Allows you to cross information Digital Maps coverage areas directly with your CRM.
Request more information about CRM
Please complete the following form to contact us.
Fields marked with an asterisk (*) are required.