How does it work?
MapSimplicity is the easiest way to enhance Geographic Business Intelligence (GBI) with powerful tools that fuel your Decision Making with Updated Information, Digital Maps, Images, GeoData and Customers throughout the Americas and The Caribbean. This new, exciting service works in different environments such as Web Enabled platforms, Intranets, single user subscriptions and will soon under smart mobile Android platforms.
What´s New on MapSimplicity 3.0?
– Reports by neighborhood and Socio-economic Strata
– Reports By POIS
– Find new Reports in Customer Strategies feature
– Balloons reports in Individual section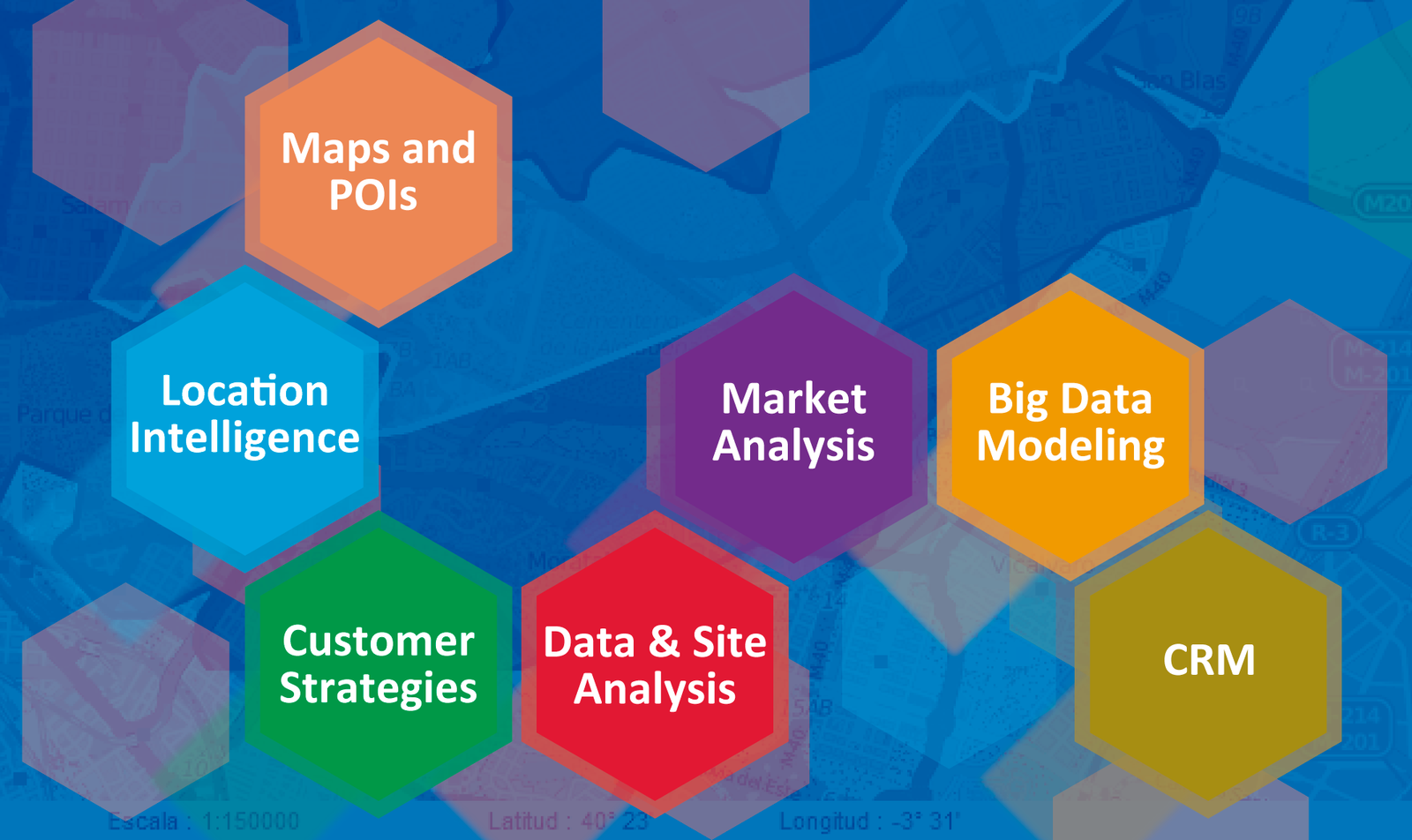 MapSimplicity General Structure and Modules
A complete set of options are included in this GBI platform, all of them covering the aspects needed in the many tasks your business requires, saving days and months of work. Main modules are in order of importance: Digital Maps, Location Intelligence, Customer Strategies, Site Analysis and Market Analysis.
All aspects concentrating on Location are the main focus of this stage. The user can upload, locate and analyze thousands of points directly on complete, colorful maps or satellite images.
A real beast of a machine in doing Rings and Isochrone Analysis for any site over the detailed arena: Block Level.
Get in seconds what you would spend in months performing  an analysis with complete, segmented maps & reports using Site Analysis.
Customer Views and Scenarios bring to the end user a complete understanding of how to develop Customer Strategies with Spider and Summary Analysis at a glance.
As going to the jungle with few arrows on the pocket with a wide area to cover the real key is having the best scenario where to achieve the prize. Market Analytics allows at light speeds Weighting and Ranking the possibilities as the best strategy to move on the way doing the concur of any territory or Area Insights Analysis
Coded Areas such as:
States, Counties, Municipalities, Parishes and Neighborhoods
Variables: Population by Age and Gender, Rural and Urban percentages, Average Household & Distribution, Number of Houses, Buying Power, Detailed Expenditures, Risk Levels, Gross Domestic Product, Private Consumption, Government Consumption, Others. We build your custom variables if required.
What is there…?
Answering this important question is a critical issue in different industries, because each site is unique in terms of its market conditions and characteristics. Site Analysis brings information of a place in different angles. This makes a real difference at any commercial strategy planning. The most popular ways to perform a Site Analysis are: rings or driving time Isochrones, polygons and customized trade areas.
Industries
Companies have different requirements specifically for their customers, sales and market information. Here is a list of different industries which are benefiting from the MapSimplicity products and services, click on your company industry and learn how to take advantage of all the MapSimplicity features and grow your business.
» Banking
» Insurance
» Pharmaceutical
» Security
» Distribution
» Retailers
» Real Estate
» Telecommunications
» Health and Adversiting
» Advertising
» Marketing and Sales
» General Business
» Tourism
» Govermment
» Military Forces
» Cadastral
» Mapping and GIS Companies
» Transport
» Worldwide Organizations
» Others
Do you want to know more about MapsSimplicity features?, watch our videos here or in our Youtube channel!
DEMO FREE!
Do you want to try MapSimplicity for free,
to experience the impact that this powerful tool would have on your business?