Geobis International understands you company needs and through our Market Research Service, we will show you the best market opportunities to help you grow your business.
Market territories are very similar to Swiss cheese, they both contain areas of high concentration, as well as areas where there is little density or the famous "holes" that distinguishes a slice. Customers act in the same manner, they are concentrated in some areas or regions where your business should focus a great part of your resources.
Identify the areas with the greatest market potential and prepare a strategy to penetrate with your sales team is imperative for any business.
Have you ever wondered about how to cover sales territories knowing where are the areas with greater benefits?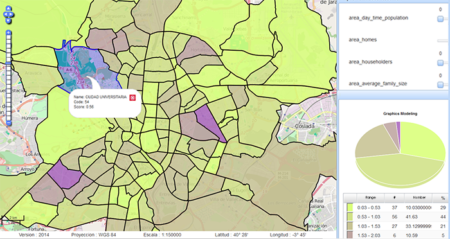 Geobis Market Analysis and Studies allow to see opportunities of markets around the world !
Define adequate market and business strategies according to detailed information  for your expansion plans, site analysis, investments, promotions and general activities  in any territory.
Our Market Research Consulting service allows you to acces information such as:
Market Potential Sizing
Total Market dimension according to Consumers and Purchasing power. The profit analysis.
Market Opportunities
Ranked opportunities according to territories, balance market profile and consumer expenditures. The ideal tool for any Expansion Plan Strategy.
Site Analysis
Based on Isochrones and or ring areas, clear understanding of what is there is the basement for a Break Even Point analysis BEP.
Market Growth Estimations
Core product and similar product sales estimations.
Market Trends
General or detailed characteristics of consumers. Alternative analysis for competitors and products are available.
Cloud Based Platforms MapSimplicity 3.0 & GeDots
Market and Business Analysis can be done with a complete cloud based  super platform ready for support your worldwide decision making. Geocoding alternatives are also available.
Market Information
»  Demography: Population
»  SES Socio Economic Strata
»  Buying Power
»  Consumer Expenditures
»  Daytime  population
»  Maps & Images
»  Customer Location
»  Traffic Generators
»  Points of Interest POIs
»  Others
Consulting
»  Market Analysis
»  Location Intelligence
»  Customer Strategies
»  Site Analysis
»  Geocoding
»  Strategic Planning
»  Custom Research
Platforms
»  MapSimplicity
»  GeDots
Are you interested in any Market Research Service?
Please complete the following form to contact us.
Fields marked with an asterisk (*) are required.