Detailed digital maps with Socio Geodemographic data by Country, Region, Block Level, Major Cities and Populated Areas!
Just as the Phoenicians used maps for conquering and managing territories 3,000 years ago, you can also take advantage of these strategic tools with modern mapping technologies and updated information from Geobis International.
The all new 2015 vintage version of digital maps and geo demographics includes Postal Codes (Zip Codes), Political Division, Highways, Streets, Points of Interest POIs, Population, Purchasing Power, Socio Economic Strata (SES) and many other layers.
General Characteristics
Details, types and characteristics of Geobis Worldwide Digital Vector  Maps.
File Formats
Worldwide Digital Maps and Detailed Socio Geo Demographics by Country, Region, Block Level, Major Cities Populated Areas and Points of Interest. Available in different formats: Geobis, KML, Google Earth Pro, Oracle Spatial, ESRI, (SHP), Mapinfo (.Tab), Postgres Spatial, DXF, DWG, Garmin and many others.
3D Maps
Geobis has primary 3D topography databases for all of the countries in the Americas and the Caribbean. In many cases, we have highly detailed information that permits us to deliver information for DEM models, 3D info and native layers of level curves for different types of industry and applications in record time.
Routing
Routing features are available for most major cities around the world. General routing variables are: directions, media speed and street type.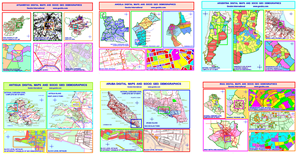 See some samples of the different maps available in digital formats.

Lean about how to work with Geobis Maps and the different solutions available for doing the work in different industries.
Detailed Geobis Maps & Data K Factors Table according to the type of Licenses and Users
Video: The Art of  Maps
Take a couple of minutes to see our new video about mapping. "The Art Of Maps"
Download